bitterness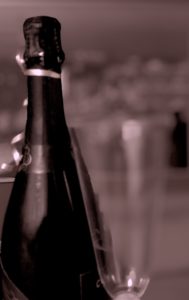 You say someone pissed in your champagne?
Well.
In a sweltering kitchen—
curses and elbows
and the clatter of pan on stove—
patience gets minced,
and kindness pulverized.
Tempers simmer under jittery lids
until it feels like someone has attacked your soul
with a grater soaked in salt and lemon.
Although some romanticize this chaos,
calling it a vigorous dance
or a whirlwind of ecstasy,
it's more like a knife fight—
a frenetic self-defense against
the relentless assault of little time
and vast expectation.
So, madame,
when you suggest
that someone pissed in your champagne,
I feel obligated to defend the staff,
who have no time for such shenanigans.
And please,
before you protest,
I feel further compelled to point out
that we do not
in fact
serve champagne.
So, with this knowledge,
you may give careful consideration
to the possibility that,
in the end,
the one who pissed in your glass
is yourself.