Lewis Carroll was born on January 27th.  The idea of blog Rabbit Hole Day is to stop making sense for 24 hours to honor the birthday of the guy who came up with Alice and the white rabbit and Cheshire Cat and all that.  I, however, take a different approach.  I honor the day not by being inane and insane but by penning a poem that attempts to mimic something.  You get to decide what it mimics.
Prior attempts at this can be found on my old blog.
The Candleship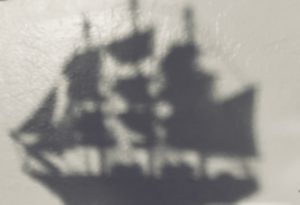 Timbers whine, creaking; sailors sweat, reeking.
The man at the watch checks his compass again.
He brustles his jacket against the wind's stracket,
Alarmed by pitch darkness at quarter to ten.
"Prunch the pinjammer, and cease all that yammer!"
Demands Mister Stitcher with braughtery bluster.
"Shawlup and listen, there's demons a-swissin,
So gather your courage, what all can ye muster."
The ship glythers slow as cruel moanings below
Fill every lad's heart with a dreckoning fear.
They gloomish their plight as they watch the last light
Sink into the black of the bottomless squeer.
"Now, man, let's hear it, and sing it with spirit!"
Cries Stitcher while striking a match at the mast.
Its tiny spitsizzle belightens the drizzle
Like memoried starstorms from eons long past.
It's too late, though, I fear, for the demons are here,
With their shashowy shapes climbing over the rails,
And their claws clickerclack as the wind has gone slack
And the night feels as flat as our dreakening sails.
With grim sword in hand, I'm ready to stand
And fight to the end of all life and all joy.
But soft in the glow, a lone voice starts in low,
On a song that is something I knew as a boy.
It windeshes clear through the rain far and near
And snatches up sparklets as skyward it drives.
And the demons, conchailling, leap over the railing
Bewailing their failing to capture our lives.
Then, magic surprising–the raindrops, they're rising!
Constelling in patterns of glittery lightness.
We stand there like fools, agape at the jewels
Skembedding in heavenly swathings of brightness.
On the song's final note, our draddeling boat
Belurches to glythe once more on its way.
The Candleboat crew, all seventy-two,
Now ready to kindle another new day.